Mayor's 2021 Christmas Wishes
December 22nd, 2021

As we approach Christmas 2021, I want to take a moment to reflect on how lucky we are in Russell Township. All of us can agree that these past 20 or so months have been unprecedented. Our routines and traditions have been turned upside down, and we needed to adjust accordingly; new work models, new business models, new schooling models, overall new life models, but this has not stopped us!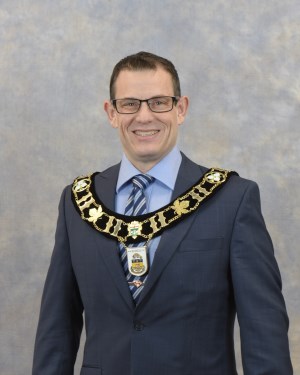 In Russell Township, we have seen incredible growth, both on the residential and non-residential sides. In 2021 we saw more land purchased to continue the expansion of our 417 Industrial Park, numerous new businesses have or will shortly open, and our Recreation Complex planning is coming along nicely. Our community is growing, becoming more diverse while remaining who we are at our core, a community that cares. We have been required to put things we love on hold to protect ourselves, our neighbours and our loved ones, but the alternative is potentially so much worse. So I thank everyone for their diligence in following recommended guidelines.
Let us continue supporting those in need, as we have always done, shop local, order take out from our restaurants, consider donating to local causes such as the food bank or local social organizations. These businesses and organizations have always been there to support us throughout the years, and now more than ever, they need our help; every little bit makes a difference.
In 2022 amazing things are happening in Russell Township; our new community hub area (near the Sports Dome) continues to grow with the completion of new outdoor basketball and tennis courts and a new fully accessible park in honour of Jonathan Pitre. The final design of the new Recreational Complex is to be completed in 2022, with an anticipated construction start in early 2023.
We continue to take a balanced, reasonable approach to our service levels, weighing current restrictions with future demands. We also continue to invest in core services, increasing sums of money going into our infrastructure fund, which helps reduce the asset management shortfall and allows us to pave more roads. We will be having our first service level review in 2022; this will help to ensure we are on the right path, basing decisions on facts and not assumptions.
While 2022 will bring new challenges for us as individuals and as a community, I am confident we will overcome these challenges. So, I encourage everyone to do their part and help out in whichever way possible; a simple phone call with family, friends, and neighbours go a long way to bringing a smile to someone's face. We are stronger when we work together, which is undoubtedly one of Russell Townships' greatest strengths.
I wish you all a Merry Christmas, happy holidays and happy new year!
Pierre Leroux, Mayor
Township of Russell