New Pilot Parklet Program in the Township of Russell – Give Your Feedback!
Enjoy a nice place to sit, relax, and enjoy the summer sun at one of two community parklets in the Township of Russell.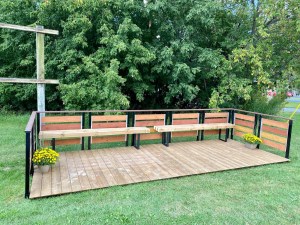 A "Parklet" is a part of a street or sidewalk area that has been repurposed into outdoor public seating with landscaping, art, and more. Parklets provide spaces for residents and visitors to sit and gather while exploring and supporting local businesses along the Township's vibrant main streets.
The pilot program offers two community parklets for all to enjoy, found at:
the intersection of Castor Street and Concession Street in Russell (1125 Concession Street); and
the intersection of Blais Street and Notre Dame Street in Embrun, near the entrance of the Recreational Trail.
These parklets are available for public use until November 1st, 2021, or until weather permits. The Township will also soon have the art of local artists displayed on the community parklets.
Members of the public, business owners, and visitors are asked to provide their feedback on the pilot project by completing a survey. The survey will be open until November 1st, 2021.
If the pilot project is well received by the community and feedback is positive, the Township will request Council's approval next year to launch a permanent and official Community Parklet Program. If approved, the Township will work with interested local businesses who wish to install a parklet as patio space.
For more information on the pilot project, please visit our Community Parklet webpage or contact the Economic Development Department.