Fireworks in the Township of Russell
As the holidays approach, you might be planning some fireworks.
Only "consumer fireworks" are now allowed during specific days and times of the year in the new Fireworks By-law.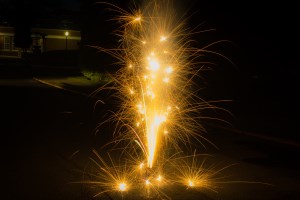 The category of "consumer fireworks" means your fireworks are low hazard and only reach a maximum height of three (3) meters from the ground when they are set off or explode. If you want firework explosions taller than three meters high, you are required to contact the Public Safety and Enforcement Department. Anything larger is in the "display fireworks" or "pyrotechnic fireworks" category which are considered higher hazard, require insurance, approval from the Fire Chief, among other requirements.
If you see firework kits sold in retail stores in the community, remember these fireworks are often bigger than the "consumer fireworks" allowed within the Fireworks By-law. The Township Fireworks By-law cannot ban the sale of these larger fireworks in our community, but does restrict their use.
Please read the Fireworks By-Law before setting off any type of fireworks, as there are details and conditions you need to know.
Also to remember:
No fireworks are to be discharged during a Fire Ban.
Fireworks are not allowed in parks.
Under the new Fireworks By-law, some types of fireworks are allowed on certain days of the year. The Fireworks By-Law is in effect as of September 1, 2021.
For more information about the Fireworks By-Law, contact the Public Safety and Enforcement Department.