Notice of Study Completion: St-Guillaume Road and Route 300 Intersection Improvements
Introduction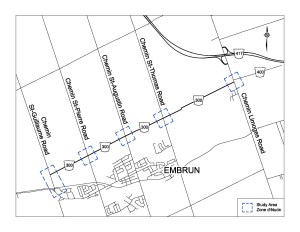 Russell Township has conducted Environmental Assessment (EA) Studies for intersection improvements at five (5) intersections along Route 300: a Schedule A+ EA at the intersection of St-Thomas Road for the addition of turn lanes; and a Schedule B EA for intersection improvements at St-Guillaume Road, St- Pierre Road, St-Augustin Road and Limoges Road. In addition, the Township has conducted a Schedule B EA for improvements to St-Guillaume Road from Route 300 to Notre Dame Street and a Schedule A+ study for a roundabout to the future Business Park on St-Guillaume Road. This EA Study has been completed in partnership with the United Counties of Prescott and Russell.
Study Process
The studies have been undertaken as Schedule A+ and Schedule B EA Studies under the Municipal Class Environmental Assessment (MCEA, 2015). A Project File has been prepared which includes a summary of the planning solutions, consultation process, existing environmental issues, evaluation of alternatives and the mitigation measures that have been developed to address environmental concerns.
The Project File will be available for a 30-day public review period from May 25, 2021 to June 23, 2021. The Project File is available for the public to download by contacting Mr. Steve Taylor and/or Mr. Francois Landry to provide the download link. Additional project information is available on the Environmental Assessments Project page.
Outstanding Issues After Project File Review
The Environmental Assessment Act has been recently amended through the COVID-19 Economic Recovery Act, 2020 regarding outstanding concerns remaining after individuals / parties have reviewed the Project File. In the event there are outstanding concerns regarding potential adverse impacts to constitutionally protected Aboriginal and treaty rights, a Part II Order request should be addressed in writing to both:
Minister Jeff Yurek
Ministry of the Environment, Conservation and Parks
777 Bay Street, 5th Floor
Toronto, ON M7A 2J3
minister.mecp@ontario.ca
Director, Environmental Assessment Branch
Ministry of the Environment, Conservation and Parks
135 St. Clair Avenue West, 1st Floor
Toronto, ON M4V 1P5
eabdirector@ontario.ca
If there are any other outstanding concern(s), they should be directed to the Project Managers listed below, no later than June 23, 2021.
Steve Taylor, P.Eng.
Consultant Project Manager, BT Engineering Inc.
100 Craig Henry Drive, Suite 201
Ottawa, Ontario K2G 5W3
Tel: 613-228-4813
Toll Free: 1-866-218-1001
Email: steven.taylor@bteng.ca
Francois Landry
Project Manager Russell Township
717 Notre-Dame Street
Embrun, ON K0A 1W1
Tel: 613-443-1747
Email: infrastructure@russell.ca
If you have any accessibility requirements in order to view or access the Project File, please contact the above Project Managers.
All information will be collected in accordance with the Freedom of Information and Protection of Privacy Act (2009). With the exception of personal information, all comments will become part of the public record.
First Date of Issue: May 17, 2021