Russell Township Strategic Plan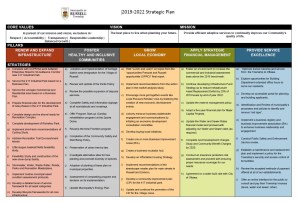 The Strategic Plan has a major influence on the Township's actions over the next four years. The Plan categorizes the strategies we need to take to achieve our goals.
Briefly, the 2019-2022 Strategic Plan identifies the following:
Core Values: In pursuit of our mission and vision, we believe in respect, accountability, transparency, responsible leadership, and balanced growth
Vision: The best place to live when planning your future
Mission: Provide efficient adaptive services to continually improve our Community's quality of life
Pillars and Strategies
The Township's 2019-2022 Strategic Plan has five pillars of focus, each with their own list of strategies.
Renew and Expand Infrastructure
Our strategies to renew and expand infrastructure are:
Complete with UCPR the work between Enterprise Street to St-Guillaume Corridor near 417 Industrial Park
Service the 417 Industrial Park based on a Business Plan
Service the Limoges Commercial and Residential area based on a Business Plan
Prepare financial plan for the development of new phases in the 417 Industrial Park
Complete design and be shovel ready for Recreation Complex
Complete development of Richelieu Park
Implement short-term recommendations of Cycling Study
Address Recreation Trail Encroachment issues
Little league baseball fields feasibility study
Feasibility Study and construction of the new snow dump facility
Stormwater, Water, Wastewater, Roads, Parks and Recreation Masterplans
Implement routine municipal asset condition assessement protocols
Develop a detailed level of service framework for all asset categories
Develop lifecycle frameworks for all core infrastructure
Develop a corporate risk management framework
Implement relocation Action Plan of Embrun Library by 2020
Expand Electronic Signage on municipal properties with public/private funding
Construction of building for UCPR Paramedic station
Repurposing of former Paramedic station
Assess opportunities and determine future of old train station in Embrun
Make decision on paving more gravel roads
Construction of Accessible park with public/private funding
Foster Health and Inclusive Communities
Our strategies to foster health and inclusive communities are:
Adoption and Implementation of heritage district area designation for the Village of Russell
Review and update of the Parks Policy
Review the possible expansion of daycare services
Complete Safety and Information signage at all roundabouts and crossings
Offer Program Start-up (Cardiac rehabilitation program) at the Sports Dome
Revamp the New Frontiers program
Completion of the Community Safety and Well Being Policy
Preservation of urban tree by-law
Investigate alternative sites for tree planting and promote diversity of species
Adoption of planting of trees plan on municipal properties
Assessment of composting program and decision on its implementation
Update Municipality's Energy Plan
Keep investing with the Energy Fund in order to achieve our goal of reducing 5% our greenhouse gas emissions
Revision of Community Grants program policy
Adopt creation of Youth and Senior committees
Conduct Fire Department Master Plan
Climate change Readiness (develop action plan, requirements, standards, municipal grant program on climate change initiatives)
Identify project for dedication to Jonathan Pitre
Review compliance of public buildings to Accessibility Act
Organize and hold Volunteer Recognition Awards and/or events
Review pedestrian safety measures
Historical signs program (site specific, along the trail, street flag program)
Grow Local Economy
Our strategies to grow local economy are:
Hold "Lunch and Learn" on topics from the "opportunities Prescott and Russell opportunités (OPRO)" final report
Implement recommendations from the action plan in the market analysis study
Encourage more get together events like Local Flavours Rendez-Vous by fostering the
creation of new economic development events
Actively enhance business stakeholder engagement and communications by initiating an economic development consultation committee
Develop buying local initiatives
Create one or more Business Improvement Areas (BIA)
Create a business incubator hub
Develop an Affordable Housing Strategy
Implement recommendations of the streetscape master plan for main streets in Russell and Embrun
Develop a community improvement plan (CIP) for the 417 Industrial park
Update and continue the promotion of the CIP for the Village cores
Apply Strategic Financial Management
Our strategies to apply financial strategic management are:
Foster an environment to increase the commercial and industrial assessment base above the 2018 benchmark
Continue developing Infrastructure Fund Strategy so to reduce Infrastructure Asset Replacement Deficit by 20% of 2019 levels by end of year 2022
Update the reserve management policy
Adopt a five-year financial plan for Major Capital Projects
Update the Water and Sewer Rates financial model and proceed with adjusting our Water and Sewer rates (as required)
Complete next Development Charges Study and Community Benefit Charges by 2020
Conduct an insurance protection risk assessment and proceed with ensuring proper insurance coverage for our needs
Agreement on a water bulk rate with City of Ottawa
Provide Service Excellence
Our strategies to provide service excellence are:
Optimize transit ridership and service from the Township to Ottawa
Explore opportunities for Building Department extended office hours to serve our residents
Develop an accessible portal for planning and building applicants
Identification and Review of municipality's processes and policies to identify and remove "red tape"
Implement a business registry and business improvement association (BIA) to enhance business relationship and engagement
Conduct Public Safety and Enforcement Service review
Establish a maintenance and replacement plan and implement a policy for the
Township's security and access control of its facilities
Review the accepted methods of payment offered at all our establishments
Offer an online interface for the public to consult and pay their Township invoices (taxes, water and sewer, other)